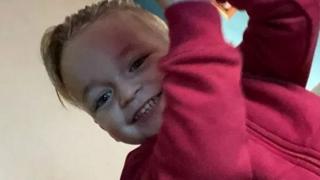 A man has admitted crushing a three-year-old to death by reversing his seat as the boy sat in a car footwell.
Stephen Waterson killed Alfie Lamb, his girlfriend's son, in February 2018.
He initially denied manslaughter but changed his plea to guilty ahead of a retrial at the Old Bailey.
In May, Alfie's mother Adrian Hoare – who watched as her son was crushed – was jailed for two years and nine months after being found guilty of child cruelty.
Sentencing her, Mr Justice Kerr told Hoare: "There was an element of deliberate disregard for Alfie's welfare."
The court had heard that Waterson was annoyed at Alfie's crying on a journey back from a shopping trip and moved his seat into him as he sat in the footwell at his mother's feet.
When Alfie continued to moan, Waterson reversed again, saying: "I won't be told what to do by a three-year-old," Hoare told jurors.
Alfie collapsed in the car and died in hospital three days later.
Stephen Waterson, the adopted son of former Tory minister Nigel Waterson, admitted manslaughter by gross negligence on what was set to be the first day of a retrial.
He was remanded in custody to be sentenced on 9 September.
Det Ch Insp Simon Harding said: "For a three-and-a-half-year-old to be crushed by something so strong and no one helping, it's a shocking way to die.
"Stephen Waterson has come across as a selfish, abhorrent individual".
Angela Moriarty, from the Crown Prosecution Service, said: "This was a harrowing and difficult case for all those involved, but finally justice has been served for Alfie."